FOCUS-1
New
Smart process node for flow and decentralised process control
Combines valve, flowmeter, pressure transmitters, temperature sensors and unique diagnostic and control functions in a single device
Increased process safety, enhanced reliability and plant availability for partially automated or autonomous factories
Redundancy: digital twin algorithms enable continuous operation even in the event of sensor failure
4…20 mA, HART®, PROFINET, Ethernet, Wi-Fi
FOCUS-1 – Version with DN50 line size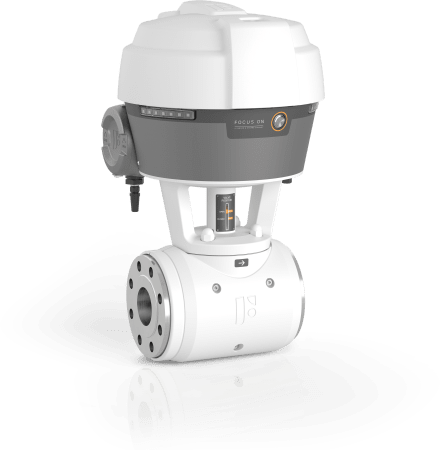 FOCUS-1 is the first intelligent process node specifically developed for the process industry 4.0. This multifunctional smart flow control instrument – developed by FOCUS-ON, a SAMSON and KROHNE company – combines sensors, actuator and control functionality in one device. By measuring flow, pressure and temperature simultaneously and regulating its valve function independently, all specified set points can be accurately and reliably achieved. In this way, the device acts as an autonomous actuator for decentralised control tasks. There is no need to establish complex control loops or connect with a DCS. This makes FOCUS-1 the ideal smart control unit for the autonomous factory. It is equally suitable for process industry 4.0 applications in greenfield projects as well as process automation in existing brownfield applications. The process node can also be used as a drop-in replacement of conventional valves to increase diagnostic capability.
FOCUS-1 features extensive diagnostics. It knows its current status, can predict future conditions, and is capable of learning so as to adapt to process applications. Thanks to its "smart cavitation control" feature, FOCUS-1 is able to identify, monitor and alarm different kinds of cavitation caused in a pipeline. In this way, operators are enabled to carry out predictive maintenance measures to avoid increased stress and wear of valve and piping ahead of time as well as to prevent unplanned downtime. Due to its advanced algorithms, the smart flow controller can also create a "digital twin". This allows modelling the measured data in such a way that device function and operation can be maintained even in the event of a sensor failure. With the help of the digital twin, plant operators implement redundancy and thus permanently increase the reliability, safety and availability of their plant.
The combination of sensors, valve and controller with extensive diagnostic features translates into less engineering effort, reduced sourcing and installation costs, a more simple and compact measuring set-up as well as more efficient life cycle management and maintenance. This simplifies processes, reduces system complexity and sustainably reduces capital expenditure (CAPEX) and operational expense (OPEX).
Product highlights
Unique combination of sensors, actuator and control unit

Integrated ultrasonic technology for highly accurate flow measurement
Integrated pressure and temperature measurements for additional information on medium and operating conditions
Integrated control valve
Independent control of the valve function through integrated processor unit

Multi-parameter measurement and processing of sensor data in one device

Measurement, monitoring and modelling of device and process parameters
Diagnostic and alarm information for process optimisation
Fast, accurate and stable control of flow, pressure and temperature
Precisely meets specified setpoint values without complex control loops

Designed for use in NOA environments: suitable for advanced digitalisation strategies (digital factory) based on NAMUR Open Architecture

Enables faster control cycles and reduces complexity in distributed control systems (DCS)
Allows for local, decentralised control
No connection to a DCS necessary: measured data is not transmitted separately to a control system, but is calculated and processed directly in the device

Digital twin: visualisation of process and device status

Redundancy for maximum safety, reliability and system availability
Sensor functionality and process monitoring maintained even in the event of sensor failure
Triggering of an alarm for predictive maintenance
Continuous self-optimisation through machine learning functions

Advanced diagnostics, e.g. "smart cavitation control"
LED status display according to NAMUR NE 107
Reduced investment costs (CAPEX) and operating expenses (OPEX) through simplified procurement, commissioning and maintenance
Significantly minimised effort for mechanical and electrical installation
Can be used in greenfield and brownfield projects
Easy device access and fast monitoring of device functions and process parameters via mobile devices (smartphones, tablets, etc.)
Typical applications
Control and regulation tasks in processes with conductive and non-conductive liquids
Control loops in partially automated or autonomous operating plants ("digital factory")
IIoT applications
Instrumentation and control engineering (ICE) applications in many process industries, e.g. chemical and petrochemical, power generation, water/wastewater industry as well as factory automation and machinery/apparatus (such as skid manufacturers and other OEMs)

Chemical process applications
Heat exchanger applications
Water applications (e.g. wastewater, cooling water)
Inlet control to storage tanks and other vessels
Links